Nordvalls Etikett AB, Sjöbo, Sweden, is enjoying accurate proofing, increased productivity and substantial waste reductions after installing a Perfect Proofer tabletop proofing system and a Colorsat Match ink dispenser.
Established in 1907, Nordvalls Etikett operates three label production plants in southern Sweden. Its main 8,000m² facility, Nordvalls Print, has 15 self-adhesive label production lines, with flexo, offset, screen, letterpress and digital presses, supplying the food, beverages, wood, paper, chemical and general industrial sectors. A specialist pharmaceutical facility is nearby, and another label, ticket and tag plant lies near Gothenburg.
Nordvalls Print's main obstacle to productivity was the make-ready times, due a proofing process that occurred inline, taking up to 25 minutes to reach colour targets on a typical four-colour job.
Knut Nilsson, Nordvalls' colour development manager, comments: "We had been mixing colours on the press which cuts into available press time and can waste substrates. We had been looking for a solution and our ink supplier suggested we have a look at the combination of a proofer and dispensing system."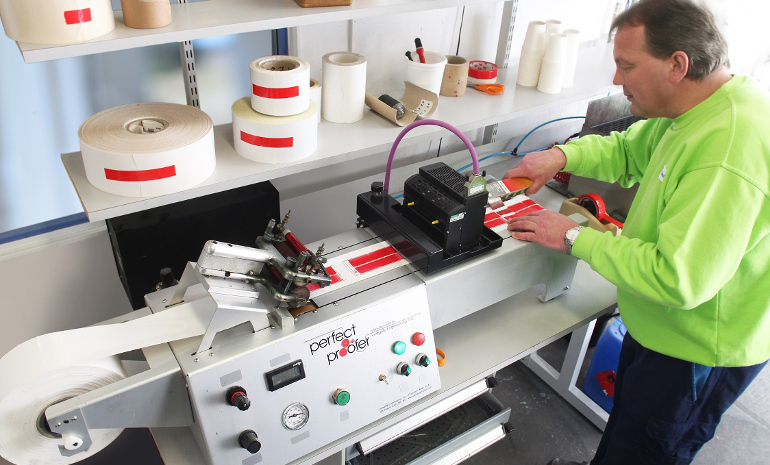 In order to help Nordvalls to optimise ink yields, the supplier Flint Group proposed GSE's Colorsat Match dispenser, on account of the latter's ability to offer a complete logistics solution based on mixing and software, and the Perfect Proofer from the GSE associated company Print Proof Solutions. After the installation of the equipment, the company found learning the technology was fast and easy.
Reducing the risk
The Colorsat Match enables clean and waste-free recipe production, dispensing the exact amount of water-based or UV-curable inks needed in batchesof up to 10kg (22lb). It is proven to improve yields by up to 30 percent. The dispenser's user-friendly Ink Management Software (IMS) provides precise formulations.
When Nordvalls receives a colour specification from the customer, a small ink batch is mixed in the Colorsat Match system and checked with a spectrometer. If necessary, adjustments are made and when the correct colour is achieved it can be tested on the Perfect Proofer.
The Perfect Proofer is a fully gear-driven replica of a flexo printing unit, using the same anilox roll type and cell count, polymer plate, tape, drying system and substrate as the full job. Nip distances can be calibrated in increments of microns, allowing reproduction of half tones at precisely intended dot gain levels.
"By testing offline, we can get much closer to the colour sample than before and produce the samples faster, so there are time savings for the customer, too," Nilsson explains.
"These systems have been a cost-effective combination. It has cut the time spent on the press to a few minutes per colour and reduced the amounts of ink and substrate that were wasted."